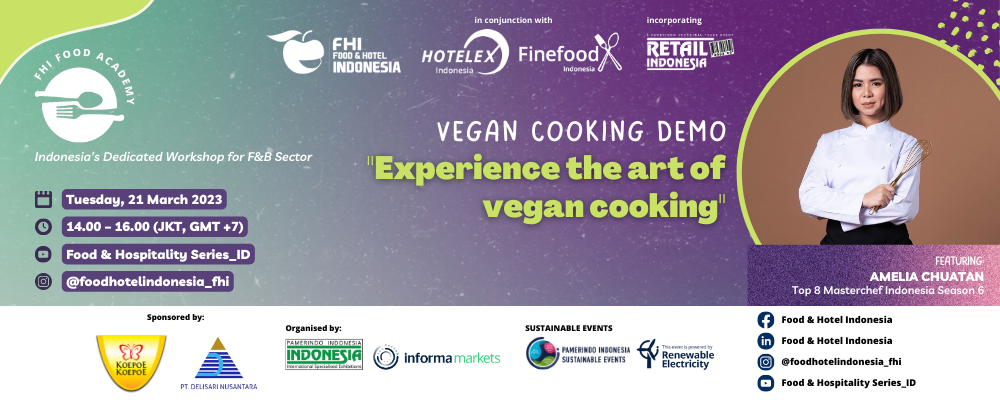 Food & Hotel Indonesia presents its first ever FHI Food Academy, Indonesia's Dedicated Workshop for F&B Sector. 
FHI Food Academy provides a vessel for anyone who is eager and interested to gain knowledge wherein we will be hosting live cooking workshops & masterclasses in Jakarta, Indonesia. Our first FHI Food Academy, sponsored by Koepoekoepoe, will raise the theme of sustainability titled "Experience the Art of Vegan Cooking" where we will be presenting vegan recipes that will for sure broaden your knowledge and add your insights on vegan cuisine. The FHI Food Academy features Amelia Chuatan, a passionate cook and baker. In 2020, she joined the renowned national cooking competition, Masterchef Indonesia, and successfully made it to the Top 8. Amelia has since grown her digital presence and continues to create content and share her passion in the culinary industry through her social media channels.
Unfortunately, our onsite registration is now closed as our seats are fully occupied. But worry not, FHI Food Academy is a hybrid event, therefore, you can still join us in our online LIVE streaming social channels through Instagram LIVE and Youtube to enjoy the programme from anywhere you are. For those who join our online event and stay until the end of the session, you will get a chance gain the complete recipe of our Vegan dishes. Set a reminder to make sure you won't miss the excitement. We can't wait to see you there!
EVENT INFORMATION
Date: Tuesday, 21 March 2023
Time: 14:00 – 16:00 (JKT, GMT +7)
Instagram LIVE: @foodhotelindonesia_fhi
Youtube LIVE: Food & Hospitality Series_ID